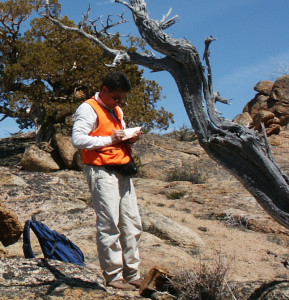 Every field scientist should have their general paper notebook handy at all times, in order to jot notes, organize thoughts, or even sketch unique observations. However, many different kinds of field research also involve repetitive observations or measurements that are traditionally recorded on standard paper forms. A specific protocol is followed, and data are taken in a way which is designed to be as cross-comparable as possible and minimally subject to technician error. Even so, there are several potential sources of error that go hand-in-hand with paper recording.
1) Non-uniform entry. Try as you might with data entry protocol, there is always the possibility that data are not entered using uniform vocabularies between technicians or collection periods. Not all fields can be checkboxes.
2) Handwriting/interpretation. Conditions in the field can make it difficult to print accurately, and writing can be smeared or washed out even when using permanent marker and Rite-In-The-Rain materials.
3) Post-collection transcription. These days, all data at some point MUST be turned into a digital format for display and analysis. This is an extra (time-consuming) step that can definitely be a source of mistakes. Basically, all data are being entered over again, manually.
4) Applicability of form fields. Many sampling operations are subject to minor variation depending on the environment, scale, and science objectives. Paper forms are not infinitely flexible, although they can be designed in such a way to anticipate changing needs. Sometimes this can cause confusion or complication, especially under challenging field conditions.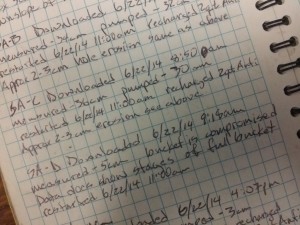 These issues and others strongly make the case to shift from working with paper to strictly digital format. If the right devices, software, and practices are used, digital field entry of sampling data eliminates many of the potential problems associated with paper, as well as speeding up the process in the field and also in the lab when data are consolidated.
Certain data entry software solutions (such as Trimble Pathfinder Office and Terrasync) can be programmed to allow limited formats or even ranges of entries. In effect, the field technician is forced to pick from a range of values or within a very specific vocabulary. Entry forms can be set to automatically record the date/time, technician name, GPS location, tagged photographs, and more. All of these semi-automated and pre-programmed options make field entries extremely uniform and easy to quantitatively compare in analyses.
Moving to digital data collection does not necessarily have to be risky. Ruggedized field computers can be extremely robust and resist the elements as well as paper. Use of non-volatile flash memory can preserve entered data even if the computer itself is compromised. Multiple computers can be configured identically and distributed among the field team members, so that spares are available in case of hardware failure.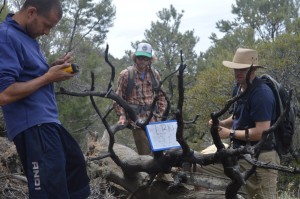 Sometimes cost is cited as a factor when considering digital data collection. Purchasing field computers or tablets, their accessories, and software is a significant up-front investment, it is true. There is always some spin-up time as lab personnel become familiar with the system or if somebody needs to learn part of a programming language. However, when the increase in field efficiency is considered along with the dramatic improvement in data quality and reduced processing time, it should become rapidly apparent that such devices pay for themselves several times over within short order. If set up properly, a field computer or tablet can take the place of several other devices (such as GPS, camera, notepad, separate computer, etc), and total cost of field gadgetry can actually be reduced or at least mitigated.
All-in-all, if your lab is still using paper forms for fieldwork, you owe it to yourself to question why. Examine the options and go try out some of the devices out there. You will be pleasantly surprised at the ways modern technology can transform your workflow and research output.
Field sampling: Ditch your paper forms and go digital