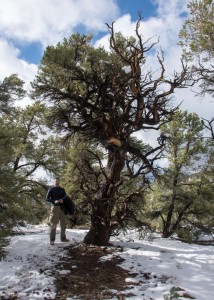 Semi-arid woodlands are home to generally older vegetation than montane forests and other places that see frequent natural or human disturbances. In fact, the western United States is chock-full of long-lived trees and shrubs. Most of these "fly under the radar," with only the most amazing or charismatic individuals receiving general recognition. It turns out that not only does the famous bristlecone pine live to be quite old, but several other species do as well. Lowly juniper species of the intermountain west can often reach over 1000 years in age, and even ponderosa pine in the right location can also approach a millennium.
The species that I've spent the most time with, Pinus monophylla (single-needle pinyon pine), has also been confirmed to live over 900 years. This particular woodland dweller is scattered across the Great Basin, and generally occurs from 6500 – 9000 ft (2000 – 2800 m) in elevation above sea level, although depending on latitude it can range another 1000 ft (300 m) on either side of those extremes. Most populations contain individuals reaching 600 years in age, if you hike around enough to find them. The majority of the species is substantially less ancient – say, "only" 200-300 years in age. Why is that? What makes the older individuals special? Why are there so many ancient trees in the Great Basin in general?
"Recent developments in single-species landscape management by Federal agencies may threaten these older groves much more than previous disturbance factors."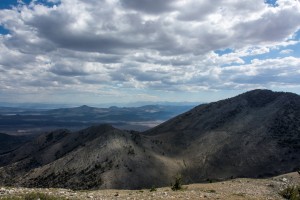 To start with, the Great Basin's topography and climate are perfect for old trees. There are hundreds of individual mountain ranges separated by broad valleys, which effectively separate tree populations from one another. This reduces the amount of spreading disturbances, such as fire or pathogens. It also provides an amazing amount of "complex" topography. By having so many different combinations of slope steepness, aspect/exposure, elevation, and geology, there are plenty of options within close-quarters for vegetative populations to adapt to shifting climatic regimes. Palaeorecords tell us this story, indicating that conifers moved up and down in elevation from the valleys to the mountain tops as climate changed over long time periods. This means that species could stay in one general location over millennia, with certain individuals just "happening" to be situated such that they grew slowly and avoided most of the mortality factors affecting other trees. Nevada is known for its gambling, after all. The mid-altitude, arid, low-productivity, north-facing "Methuselah Ridge" in the White Mountains is a classic example of this favorable dice-roll.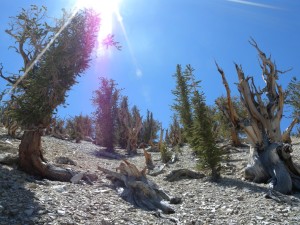 In most mountain ranges of the Great Basin, the oldest trees in a population are to be found at mid-elevation and often on low-productivity sites. Absence of ground cover and understory plants ensures that competition is kept to a minimum during drought and spreading fire is held in check during or after wet periods. It is also common to find older individuals on "fire-safe" sites such as high
rocky ridges or talus slopes. The woodlands at the upper and lower treelines are constantly in flux, responding to changes in climatic extremes that alternatively allow regeneration and then kill off the young trees. As climate shifts over longer timescales, eventually these trees are allowed to live and become mature extensions of the population.
At lower, more accessible elevations, older outliers are susceptible to human disturbance such as woodcutting. In the late 1800's, large swaths of pinyon and juniper were removed for use in the mining industries.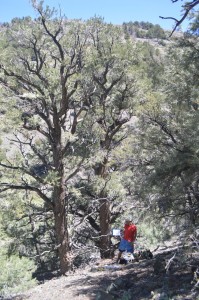 Even today, cutting for firewood can still encroach on very old stands. Fortunately, the relative abundance of ancient trees in Great Basin woodlands is such that old-growth is not in danger of total extirpation. Although, recent developments in single-species landscape management by Federal agencies may threaten these older groves much more than previous disturbance factors. While plans for Sage Grouse habitat gardening on a massive scale claim to avoid old-growth areas, general ignorance of the true nature of pinyon-juniper woodland structure by woodcutting contractors is likely to result in some "mistakes." I was very surprised at a recent science forum to hear that most of the scientists involved in this well-funded push to remove pinyon-juniper had no idea that 500-year-old individuals were common.
The next time you are traveling in woodlands or forests, try to spot the places on the landscape where the old trees hide. Sometimes they can surprise you!
Looking for old trees? The Great Basin has plenty.